Creating a Fibreglass Roof in Boyton
26/03/2021
Fibreglass, also known as 'Glass Reinforced Plastic' (GRP), has quickly become one of the most popular methods of flat roofing. It has even overtaken materials such as bitumen, led and rubber in recent years. It has become one of the most popular flat roofing materials in the UK. This has largely been due to its durability, cost-effectiveness and relative ease of installation (in comparison to other techniques). In this article, we share our expertise on how to make a sturdy and high-quality fibreglass roof.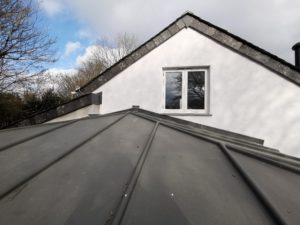 Fibreglass rooves can easily last for 30 years in a good condition. The lifespan of fibreglass is easily better than that of felt rooves. This material can also work on complex roof shapes, leaves no joints, is fairly easy to repair and looks good aesthetically. Because of this, it has become the main method that we now use as a roofing company for flat roofs (though when necessary we will still install led, rubber or bitumen). Recently we have used fibreglass as a way of complementing some of the work done within Bude and Wadebridge on conversions of houses. Check out our gallery to see examples of some examples of our recent work with fibreglass.
And as for repairing your new fibreglass roof… well… as long as the original fibreglass flat roofing was finished to a high standard, with trims and flashing securely positioned, then repairs are rarely necessary. Fibreglass is highly resistant and durable. However, even if your roof is somehow damaged, then simply applying another layer of GRP on a structurally sound roof will do the trick! And the same goes for any fading; simply reapply a layer of GRP and your roof will be back to its beautiful old self.
You would have thought that for such a strong and adaptable material, fibreglass would be the more expensive roofing option… not so! Fibreglass is cheaper per square metre than other roofing materials.
Not only is fibreglass great for roofing, but this hugely versatile material is also used to make cold water storage tanks, boats, ponds, bathroom utilities, car body parts, internal structuring in aeroplanes, circuit boards, mobile phones and perhaps most importantly to a Cornish company like us… surfboards!
So if your extension or building needs a new flat roof, using fibreglass is definitely a no-brainer. Fibreglass- when installed well- results in beautiful, durable flat rooves that will stand the test of time in great condition.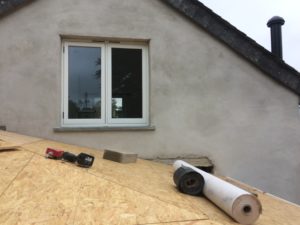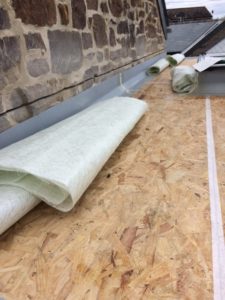 (This blog post was originally written in March 2019, and was updated and published in March 2021.) 
For more information on local roofing craftsmanship and materials see this blog post on Delabole slate.