Rag Slate (or Delabole slate)- The Difference Between Standard and Rag Slates
08/03/2019
The history of rag slate, or Delabole slate
Rag slate, also known as Delabole slate, is unique to Cornwall and Devon. It is often present on old and listed buildings; you may have noticed this yourself on walks around our beautiful county. Slating with rag is entirely different from working with any other kind of slate, given their irregularity in size, shape and colouring. This characterful, rustic and natural irregularity makes them popular in home Delabole is home to the largest and oldest slate quarry in England. The slate from this corner of Cornwall has been used all over the world, and was hugely popular during the Elizabethan era. The Delabole quarry was once the deepest man-made hole in the world.
The benefits of rag slate
This slate is uniquely durable; tough under taxing weather conditions such as extreme heat, frost or snow. It is non-combustible, resistant to sulphuric acid (found in acidic rain and agricultural fertilisers) and other forms of pollution.
Delabole slate can come from one place only… Delabole itself! Kinder to the planet and kinder to your local area, using rag slate in our roofing projects helps to support local jobs and industry, as well as cutting down on those air miles. Using local slates gives you the peace of mind to know that your slate has been fairly traded.
Delabole, or rag slate, is beautifully natural and every slate is unique, meaning that your roof will look softly rustic and characterful.
How to install a rag slate roof
Traditionally rag or Delabole slate would have been nailed directly to the rafters (hence why traditional rag slate roofs have rafters that are smaller yet closer together then battened roofs). However, it has become more common over the years to nail them to roofing batten, which helps speed up what was a laborious process.
Unlike regular slate, rag slate is all different sizes and often second-hand slate, sorting the rag slate has to be done before any roofing, as the different size categories determine the number of courses the roofer can do in the select category.
Again unlike, normal roof slate, roofs, can't be pre-stacked out with slate as different size slate are required to achieve the coverage needed for a water-tight roof. As such rag-slating usually requires a minimum of two people.
The two things to be wary of when rag slating is the coverage i.e the degree to which the next slate and/or course cover any holes in the slate. This should always be a minimum of 3'inches and the kick. If an adequate kick isn't provided (where the eaves slate and bottom course meets gutter/wallplate) this will result in the next courses of slate "kicking" which can allow windblown rain to enter the roof.
Delabole Quarry
Trips and tours to the quarry at Delabole can still be arranged, and you can see the slate as it is quarried.
Below: Recent rag slate roofs completed by Bristow & Reeve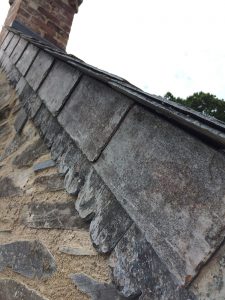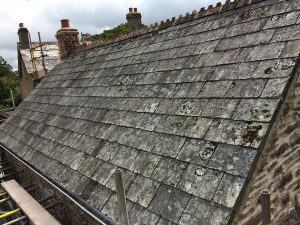 For more information on Delabole or rag slate, or to tour the Delabole Quarry itself, please visit: Delabole Slate