Rag Slate (or Delabole slate): The Difference Between Standard and Rag Slate
08/03/2019
The history of rag slate, or Delabole slate
Rag slate (also known as Delabole irregular slate) is unique to Cornwall and Devon. Bristow & Reeve often work with Delabole rag slate on old and listed buildings. You may have noticed this yourself on walks around our beautiful county. Slating with Delabole rag is entirely different from working with any other kind of slate, given their irregularity in size, shape and colouring. This character-ful, rustic and natural irregularity makes them popular and gives any roof charm and a gentler, 'lived-in' quality than regular slate.
(There are two types of Delabole slate: regular and irregular.)
Where does Delabole rag slate or Delabole regular slate come from?
Rag slate comes from a town in North Cornwall, called Delabole. This little town is home to the largest and oldest slate quarry in England. The slate from this corner of Cornwall has been used worldwide and was hugely popular during the Elizabethan era. The Delabole quarry was once the deepest man-made hole in the world and still produces high-quality, beautiful slates to this day. Good ole' Delabole!
What is rag slate and what is Delabole regular?
Rag slates come in all different sizes, instead of coming in pre-cut uniform sizes. It's the traditional way of slate roofing in Cornwall, and so if you have a listed or historic building, you may have to use rag slates, in accordance with Historic England's guidance and your local planning authority. (For advice on how to renovate your listed building, check out this article.)
Some homeowners enjoy using rag slates just for the aesthetic; it looks beautiful, rustic and traditional.
Delabole regular slate is cut to a uniform size, and is quicker to lay, though it can still be expensive (because you are using local labour and local materials). Though Delabole regular slate doesn't have quite the same rustic charm as Delabole rag, it is still a lovely slate to use.
The benefits of rag slate
This slate is uniquely durable. It is tough under taxing weather conditions such as extreme heat, frost or snow. It is non-combustible and resistant to sulphuric acid (found in acidic rain and agricultural fertilisers) and other forms of pollution. This makes rag slate a popular option for those who want a roof that will stand the test of time and is naturally fire-retardant.
Delabole slate can come from one place only… Delabole itself! Kinder to the planet and kinder to your local area, using rag slate in our roofing projects helps to support local jobs and industry, as well as cutting down on those air miles. Using local slates gives you the peace of mind to know that your slate has been fairly traded.
Delabole, or rag slate, is beautifully natural and every slate is unique, meaning that your roof will look softly rustic and characterful.
Slate is made up of clay, or volcanic ash, put under extreme heat and pressure, for millions of years. This makes slate some pretty tough stuff!
How to install a rag slate roof
Traditionally rag slate (Delabole slate) would have been nailed directly to the rafters. This is why traditional rag slate roofs have small, closely set rafters, rather than battened roofs which have more widely spaced rafters). However, it has become more common to nail the slate to roofing battens. This quickens what was a laborious process, saving the roofers' time and saving you money!
Unlike regular slate, rag slate comes in all different shapes and sizes, giving each tile a unique and individual quality. Sometimes second-hand slates can be used. Slate is so durable and tough; if an old roof needs replacing, the tiles can be repurposed and recycled! Not only is this a more sustainable and environmentally-conscious practice, but it also saves a lot of money on buying new building materials. This is why sorting the rag slates has to be done before any roofing, as the different size categories determine the number of courses the roofer can do in the select category.
Unlike regular slate roofs, rag slate cannot be pre-stacked with slate. This is because the different sized slates must be carefully placed as the team works along the roof, in order to required to achieve water-tight coverage. Because of this, rag-slating usually requires a minimum of two people working in the roofing team. Our roofers use a slate-passer to quicken the process of passing the slates safely to each other. Here at Bristow & Reeve, we're very fond of our slate-passer, and we call him Nathan.
What sort of nails should I use on a rag slate roof?
TOP TIP: We only use copper nails to fix rag slates. Copper is softer than stainless steel or aluminium, and also does not corrode materials such as lead. Copper nails come in three sizes: 50mm, 38mm, 30mm. For the bottom courses, we usually use the longer 38-50mm nails. Top courses use the shorter 30mm nails, as the slates are smaller and the kick is not as steep.
How to roof with rag slate
There are two things to be wary of when rag slating. The first is the coverage, that is, the degree to which the next slate and/or course, covers any holes in the slate. This should always be a minimum of 3'inches and the kick. If an adequate kick isn't provided (where the eaves slate and bottom course meet gutter/wallplate) this will result in the next courses of slate "kicking" which can allow windblown rain to enter the roof.
Technical know-how like this requires a team of highly-skilled builders, who are specialised roofers and have years of experience behind them. (Click here for more information on hiring a reliable team of roofers.)
Delabole rag slate is a sustainable alternative that keeps becoming better with age because it is frequently reused and recycled (as long as it is in excellent condition). Instead of using a grinder, a guillotine can be used to cut the Delabole rag, producing less noise when cutting and a feathery edge on the slate as opposed to a sharp edge. A roof has a much softer, more rustic appearance as a result. Brazilian slate, on the other hand, is ground, giving it a sharper, more contemporary appearance.
Delabole Quarry
Trips and tours to the quarry at Delabole can still be arranged, and you can see the slate as it is quarried.
Below: Recent rag slate roofs completed by Bristow & Reeve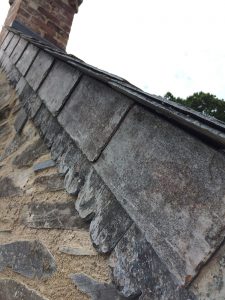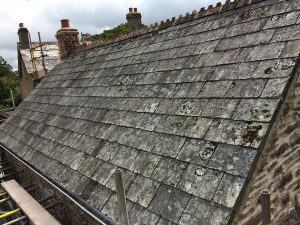 For more information on Delabole or rag slate, or to tour the Delabole Quarry itself, please visit Delabole Slate. 
Like what you read? Learned anything new? Share this blog post on social media to keep your friends and audiences updated and informed.