Do You Own An Airbnb in Cornwall? Is Your Roof Ready For Guests?
02/07/2022
It's certainly been a rainy and stormy few weeks here in Cornwall! Airbnb owners should check that their roofs are in tip-top shape, with the summer holidays approaching. Energy efficiency and insulation regulations have changed this summer. Therefore Airbnb hosts should ensure that your property sticks to by new carbon emission codes.
The new regulations encourage building projects to produce 30% less carbon than previous standards did. If you're building an extension or annexe to host Airbnb guests, have a conversation with your roofers or builders about the new building regulations.
Ventilating your Airbnb roof
Summers in Cornwall (and Devon) are often wet and warm, so ensure your roof is well ventilated and that vents are clear. Moisture collects inside roofs because warm, moist air travels upwards. Condensation and moisture create mould, which isn't very sightly for your guests! Guests with asthma may also find that their condition is aggravated by any dampness.
In Airbnb's guidelines for Responsible Hosting In The United Kingdom, hosts are asked to make sure that the property is safe and that your property "is properly ventilated". In Cornwall, some hosts own properties with large attic spaces, which they have converted into self-contained Airbnb annexes. It is more important than ever to make sure your roof is in good condition and well ventilated if your guests are staying in a loft space.
How do Bristow and Reeve ventilate roofs?
We often install soffit vents. Soffit vents supply cold, fresh air into the loft at a low level. We also use a tile vent or ridge vent. This allows warm, stale air to escape the structure from a high level.
This two-way ventilation eliminates the moist air and generates a gentle airflow in the loft. Two-way ventilation reduces the risk of property damage, mould growth on the ceiling, and wood rot. The amount of air you need to circulate depends on a number of variables.
Consider the location of your property in relation to wind exposure, whether your loft has been converted into a living space, and, most importantly, how much insulation is in place throughout the home. Good ventilation systems will typically specify how much air they can circulate.
Let your roofers know how often your Airbnb is used, how many guests stay (more people=more condensation!) and whether your guests will be cooking, using radiators or air conditioning working during their stay.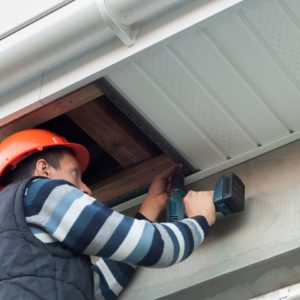 The condition of your Airbnb roof makes a big difference!
Though your roof might function well enough, thinking about how it looks is also important for Airbnb hosts! Remember that guests make their bookings mostly from the pictures of your property. If your roof has moss, cracked guttering, missing tiles, is sunken in the middle, has rotten timbers, and broken solar panels, then guests may avoid your Airbnb. Check our recent article on how much roof repairs are likely to cost if you are considering your Airbnb budget this summer.
Stay on top of things
Roofs- when they go wrong- can go really wrong. In between guests, check up on your loft conversion or roof condition. Ask for guest feedback, and if your visitors notice any dampness or condensation in your roof, be sure to contact a trusted and experienced roofer to come and sort out the problem before it gets any worse. Damp in the roof should not be left for long, as this can quickly spread.
If you've enjoyed this article or found it helpful, please share it on your social media platforms. Like us on Facebook or follow us on Instagram to stay up to date with the other resources that we share often. Check out our gallery of past work and give us a bell if you like what you see!