The Pros and Cons of Brazilian Slate
27/01/2022
Brazilian Slate: Pros and Cons
Brazilian slate is one of the most popular slates used in roofing in Britain today. Look at any roof in Cornwall, and the slate you see is likely to be Brazilian. (Also common in Cornwall is rag slate or Delabole slate). Over the last few decades, the Brazilian slate sector has had a significant impact on the global slate market, and it is now the world's second-largest slate manufacturer. 95 percent of Brazil's slate is mined in Minas Gerais, a geologically diverse region about 450 kilometres north of Rio de Janeiro. But what are the pros and cons of Brazilian slate? And should you use this material for your next roofing project?
A Bit of Backstory…
Brazilian Slate's history
Brazilian slate is made from mudstone. Mudstone is a sedimentary stone that has been compacted over millions of years. However, it has not gone through the whole metamorphic process that true "slate" has gone through.
This gives it unique qualities. Brazilian slate is flatter in nature and can be split cleanly along its bed. The slate is quite firm, although it might be tough to deal with by hand. Cutting with a diamond circular saw produces the greatest results.
Brazil's slate imports are a relative newcomer to the UK market. Brazilian slate was imported to the UK in order to provide a truly worldwide high-grade slate at a reasonable price. Because of its flawless surface, intriguing patterns, and exquisite colour palettes, Brazilian slate is a cut above any other imported slate.
Qualities and Characteristics of Brazilian Slate
Brazilian slate comes in two different colours. The grey is a blue-black Brazilian slate paving, while the black is a grey-black Brazilian slate paving. The deeper Brazilian slate paving stones will be darker, while the lighter slate paving stones will be lighter. The grey Brazilian slate paving stones, on the other hand, is a uniform silvery-grey colour.
One of the smoothest types of slate is Brazilian slate. While the surface of the slate paving has minor undulations, the differences are rarely more than a centimetre or two. If you want a sleek and smooth slate surface in your landscape, Brazilian slate pavement is the way to go.
The surface of the grey Brazilian slate paving stones is almost devoid of pattern. The blue-black Brazilian slate paving, on the other hand, has a very unique pattern on the surface of each stone. This, we believe, contributes to the creation of a patio with distinctively beautiful slate paving stones. The varied shades of blue-black Brazilian slate paving stones are exactly what you're searching for if you want to create an eye-catching patio area that really stands out.
Because Brazilian slate is hard and thick, your roofer will need to cut the slates with a grinder, rather than a guillotine. This is a more labour-intensive process.
The Cost of Brazilian Slate
It's one of the cheapest slate options, and certainly cheaper than slate from Spain or a local quarry (however, you might want to support your local industry!) If you want to cover your roof in Brazilian Slate, expect to pay between 90p-£1.50 per slate. However, because Brazilian slate can be hard and brittle, it can cost more in labour, and therefore you should factor that into your project choices. Brazilian slates are more likely to break than Spanish slates, and you will also have to pay for replacements!
If you are interested in using Brazilian slate for your roofing project, you can contact us on 01288 381256, or use our contact form to send us an email.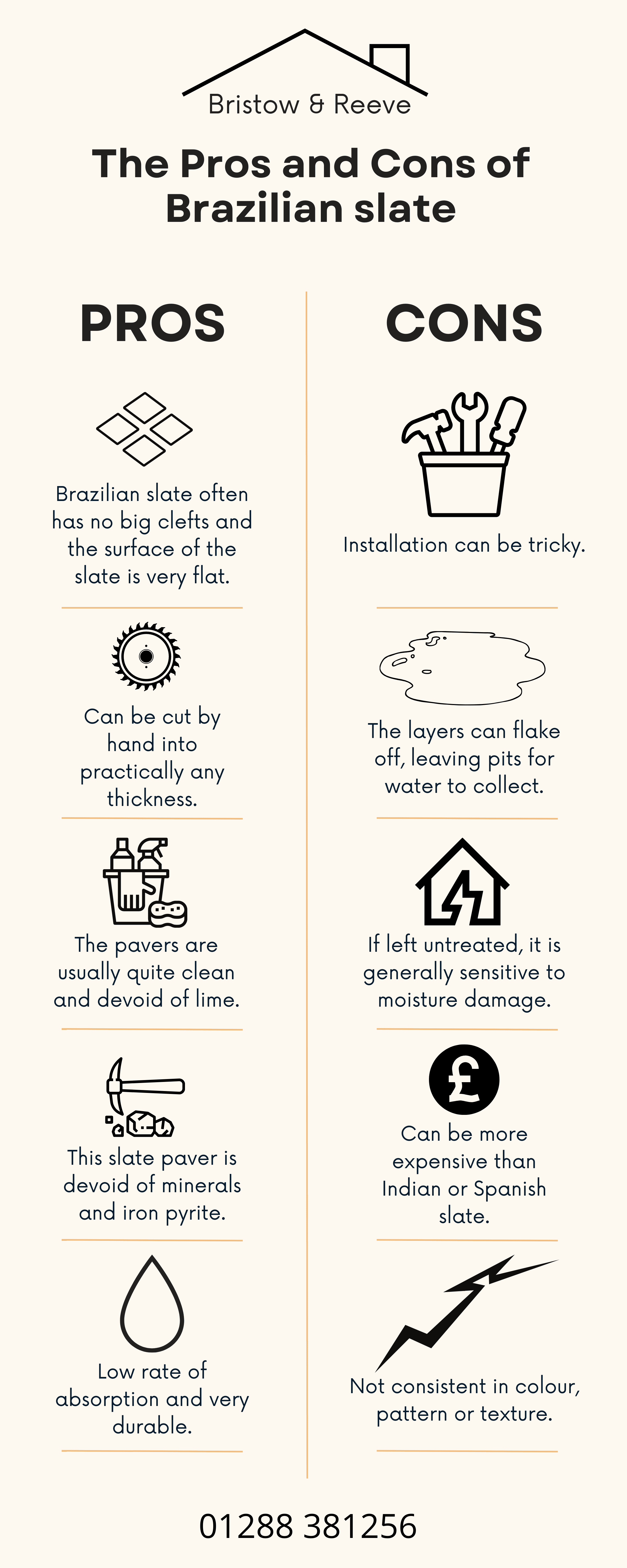 You can read more about the science and geology behind slate here:
www.britannica.com/science/slate-geology 
www.en.wikipedia.org/wiki/Slate
Slate roofing techniques can be read here:
www.roofingsuperstore.co.uk/help-and-advice/project-guides/pitched-roofing/how-to-slate-a-roof/